At 3.34am local time, Emirates flight 848 departed from Doha to Dubai – the last link between these two Middle Eastern hubs until a furious diplomatic row ends.
On a normal day there are almost 20 flights each way between the Qatari airport and Dubai, making it the busiest route in the region. But from 4am today, they are all grounded – along with dozens of other departures and tens of thousands of passengers.
Bahrain, Egypt, Saudi Arabia and the United Arab Emirates have cut military and diplomatic ties with Qatar, alleging the country has been supporting extremist groups.
Airlines including Emirates and Etihad have been told to stop flying to Qatar. Emirates announced: "As instructed by the UAE government, Emirates will suspend its flights to and from Doha, starting from the morning of 6 June 2017, until further notice.
"All customers booked on Emirates' flights to and from Doha will be provided with alternative options, including full refunds on unused tickets and rebooking to alternate Emirates destinations."        
The fare-comparison website Skyscanner is listing complex and expensive one- and two-stop connections between Doha and Dubai, rather than the usual 70-minute hop.
Saudi Arabia's closure of airspace to Qatar Airways planes seriously affects the airline's connections with Africa. The overnight arrival from Johannesburg, QR1368, was routed via Oman and Iran to avoid Saudi airspace.
While as signatories to the 1945 International Air Services Transit Agreement, Bahrain, Egypt and the UAE are obliged to allow overflights, the evidence from flight paths monitored by The Independent shows that Qatar Airways is avoiding their airspace.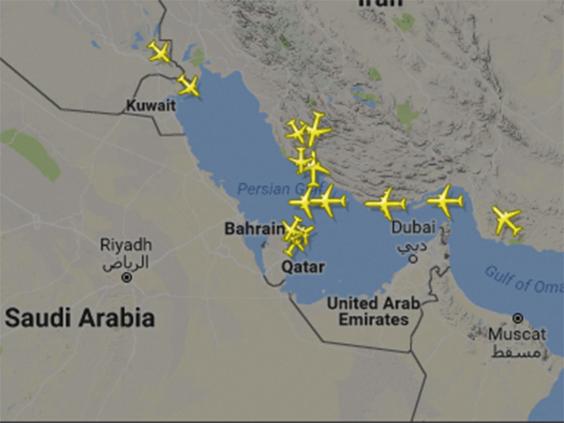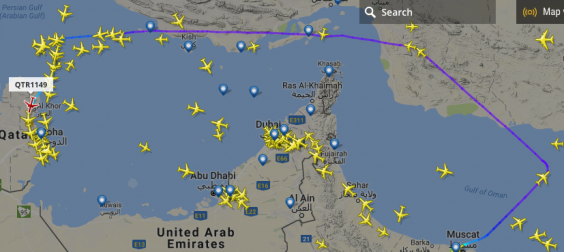 The world's longest flight, from Doha to Auckland, became even longer with a lengthy diversion over Iran.
Early arrivals at Doha on Tuesday morning displayed on FlightRadar24 showed a range of sub-optimal routings. The arrivals from Adelaide, Melbourne and Perth took a northern course over Pakistan and Iran rather than the direct track across the UAE. They all approached Doha from the north, arriving late in Doha.